Learn how to set up your company page and configure company-level settings. If you are not sure of some information, don't worry, you can fill in what you know, save and come back at any time to finish.
Table of Contents
---
Review and Edit Company Information
Navigate to Company on the main side menu.

Click on the Company Information tab "..." and select Edit. Review and edit the information and then click Save.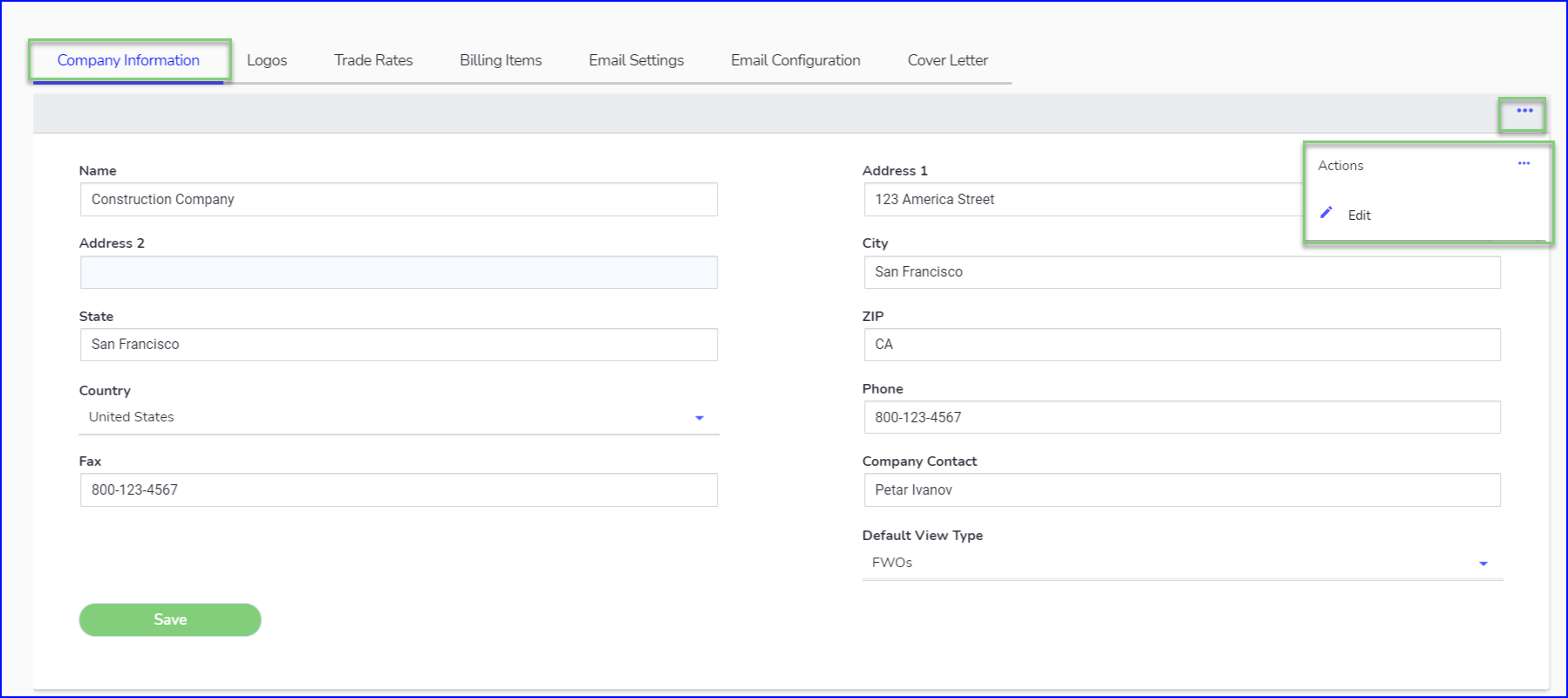 Upload your company logos
Click on the Logos Tab and the "..." and select Edit.

Click on Choose File and upload a logo for your documents and a logo for your emails. These can be different if you choose.
Click on Save.
Set up Trade Rates
Trade rate templates can be set up at the company level and then selected on projects and adjusted for the specific rates for those projects.
Trade rates can be shared with your subcontractors and this locks in the rates that they are permitted to use for that project allowing you greater control and avoiding issues with non-agreed upon rates.
Trade rates are optional and can be skipped on the initial account setup.
Click on the Trade Rates tab and the "..." and select Edit.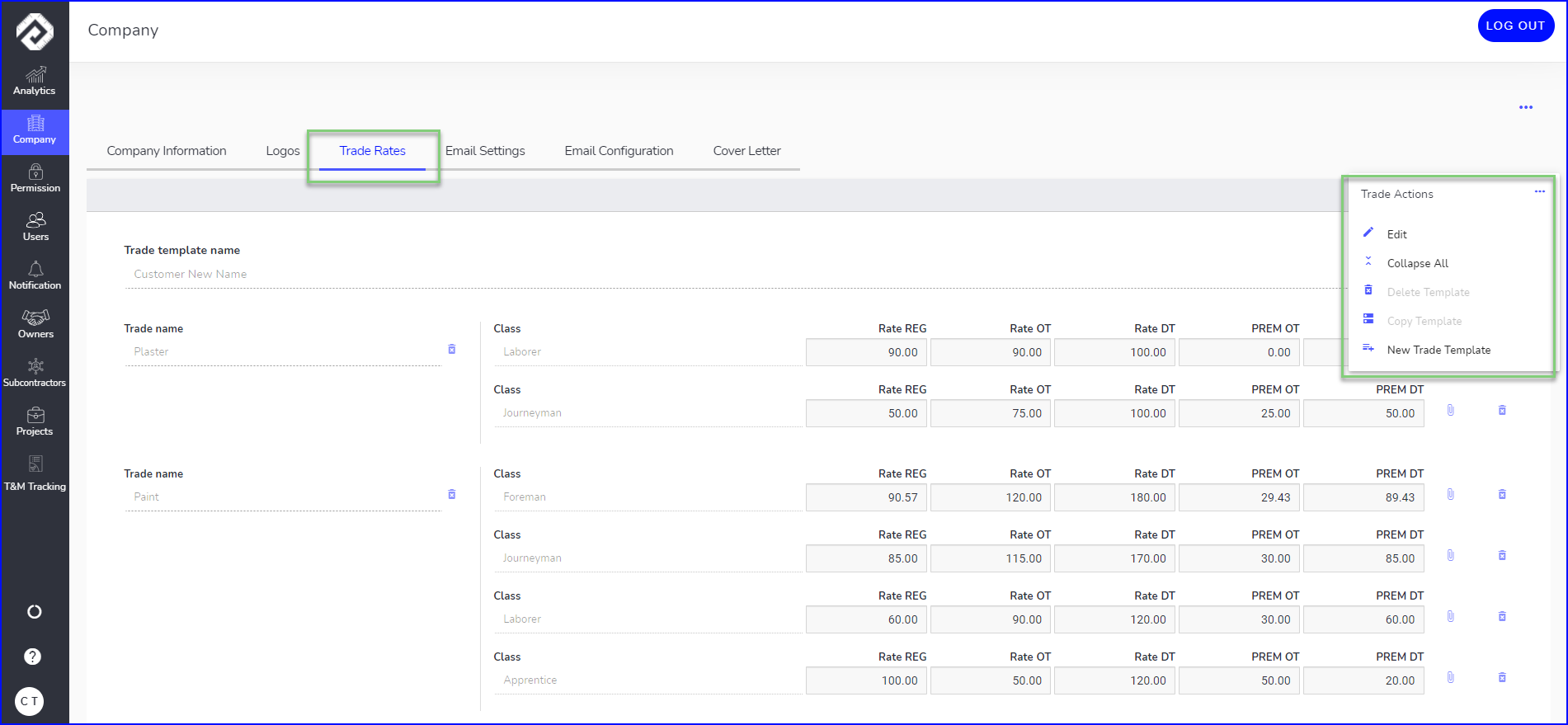 The trade name, class, and rates can be edited.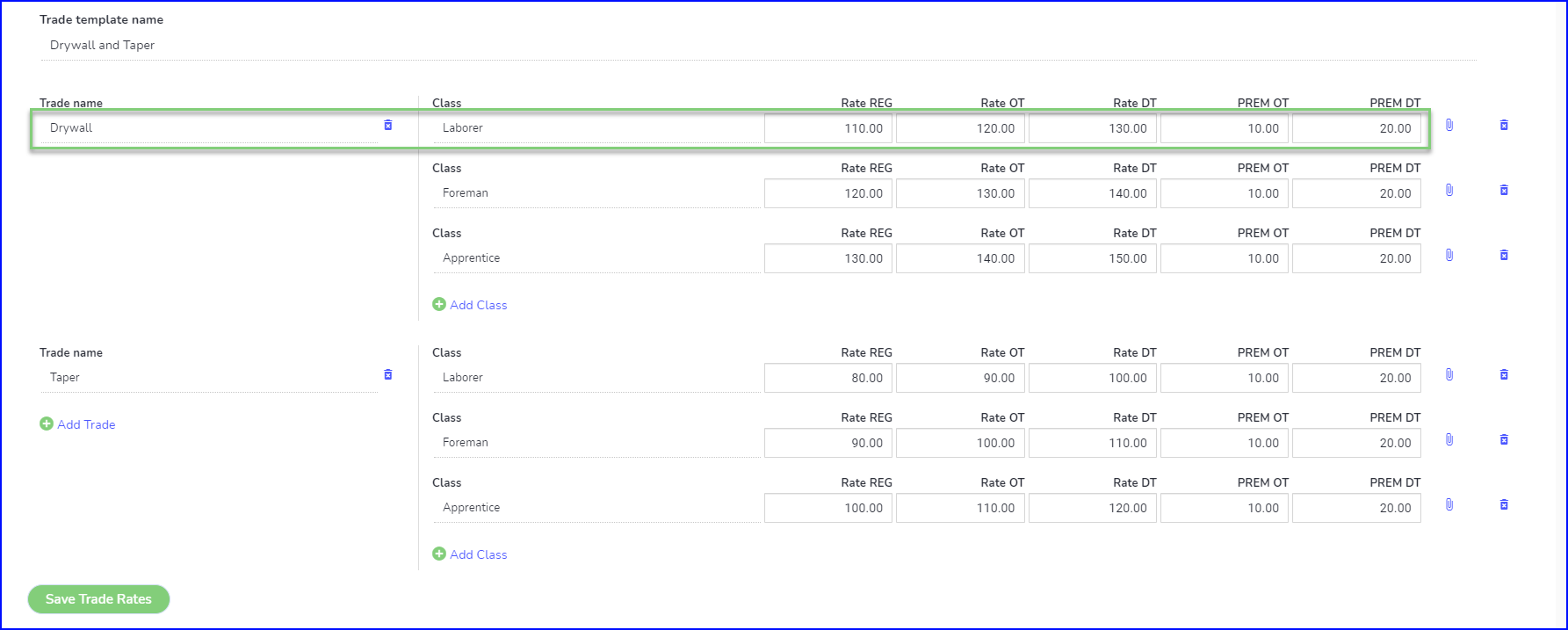 A new class can be added to an existing trade by clicking Add Class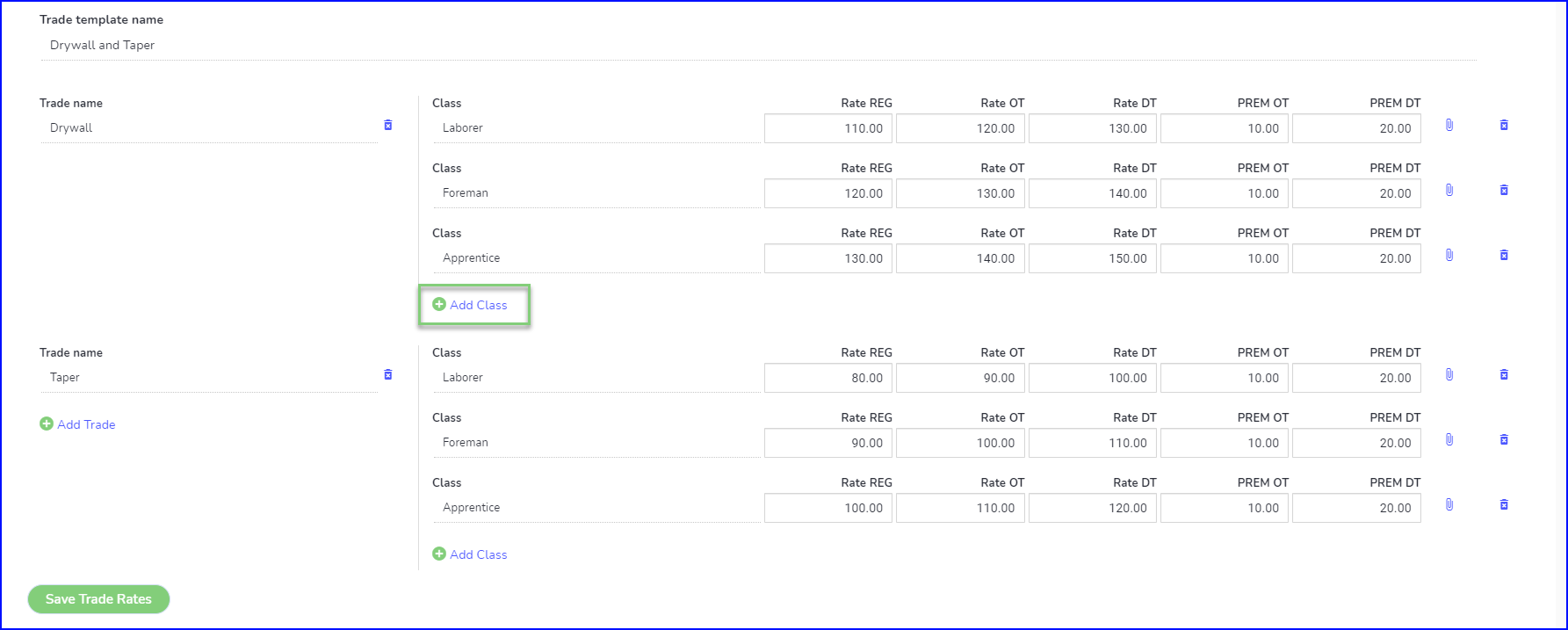 A new trade can be added by clicking Add Trade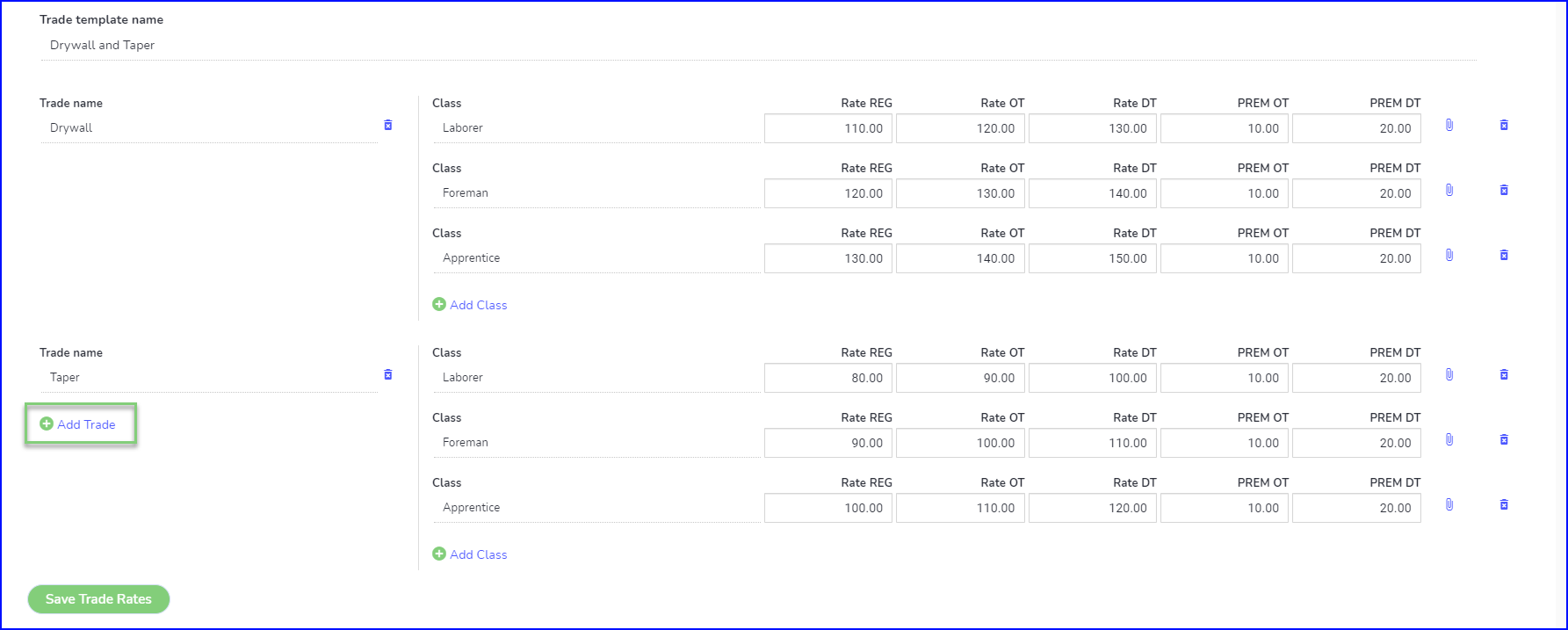 Click on Save after completing your changes.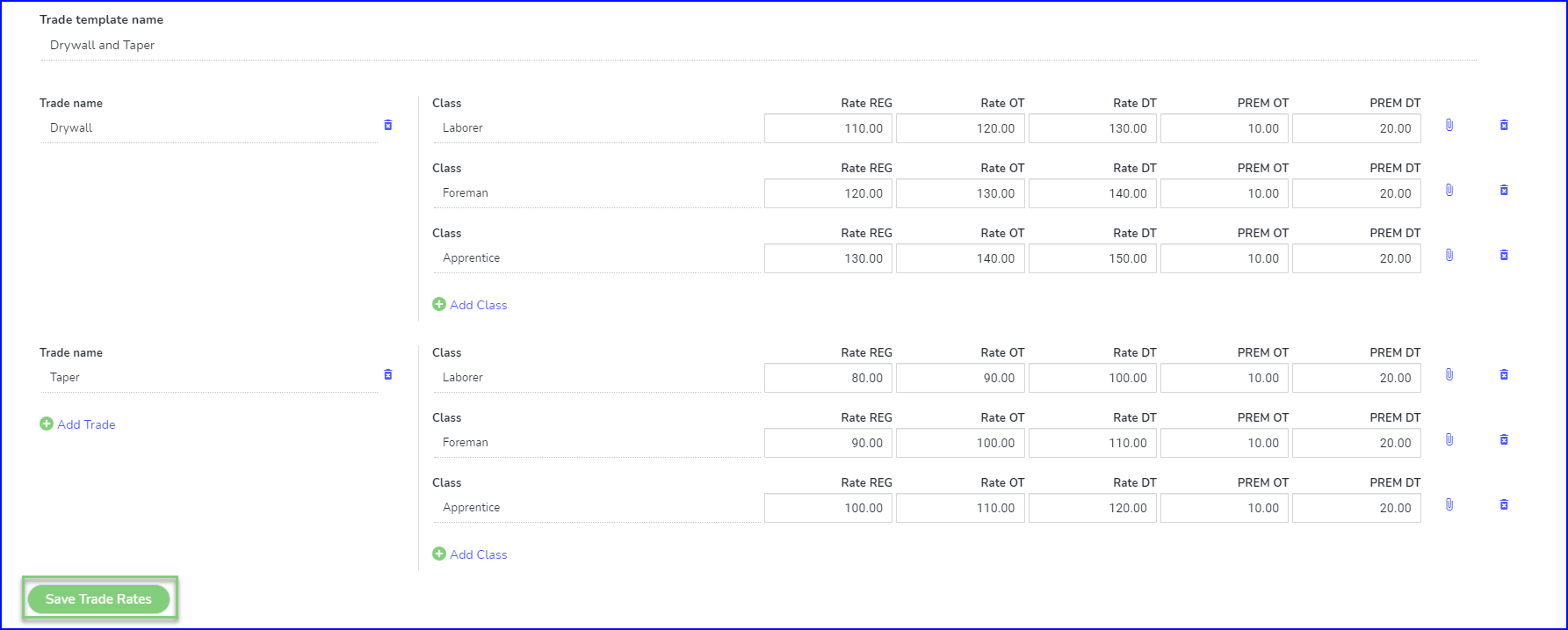 Set up Billing Items
Billing Item templates can also be set up at the company level and pulled into projects. These serve as a guideline for the billing items that a subcontractor is permitted to bill for and can help your project managers when reviewing ticket work or requests for change orders.
Examples of billing items that are permitted on a project for extra work may be supervision time, parking fees, rentals.
Billing Items are optional and can be skipped during the initial account setup.
Click on the Billing Items Tab and the "..." and select Edit.

Click on the expander on the right of the category line to view the items and make any changes. You can click Add New Category to add a brand new category to your billing items.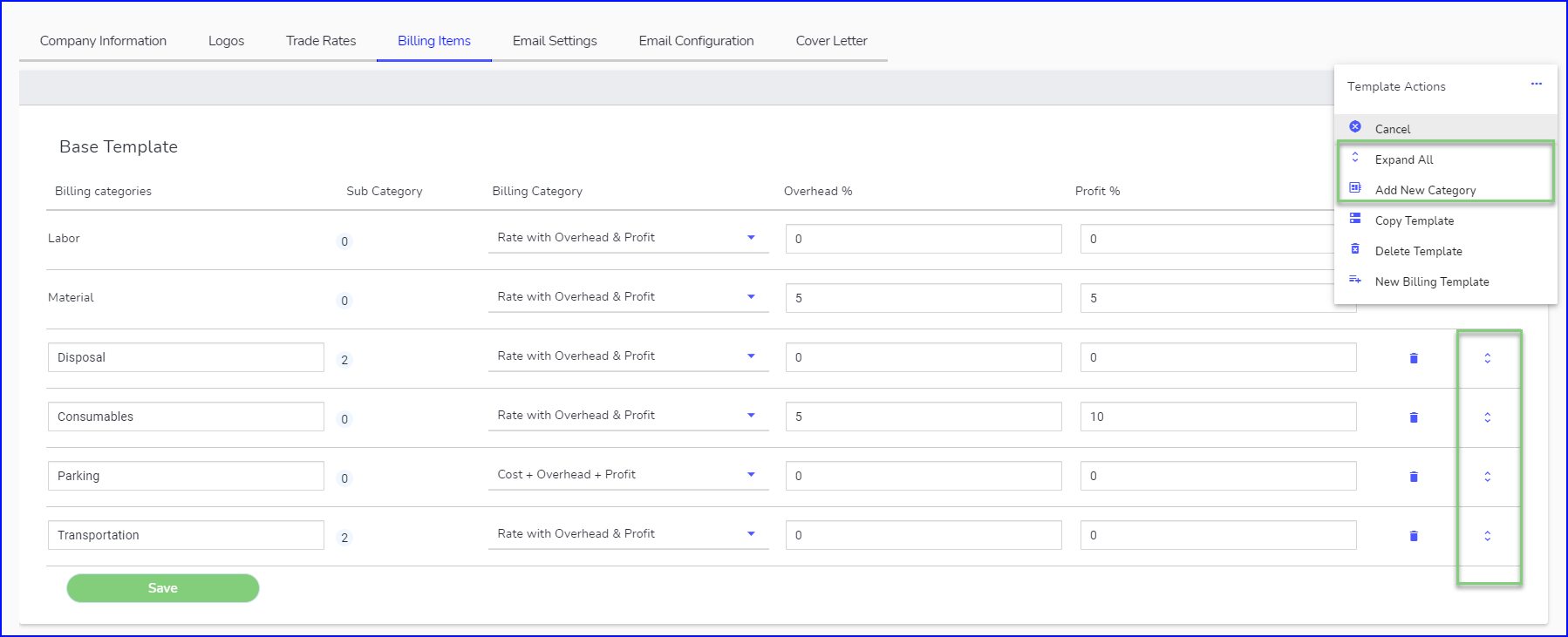 You are able to add new pricing items within those categories. Set the overhead and profit for each billing category.

Click on Save when you are finished with your edits.

Email Settings
There are a few emails that get sent from the subcontractor account for Authorizations and Tickets and you have control over which emails you switch on for your company and then also at the project level.
It is perfectly fine to skip this tab and then adjust as you start to use the product and switch of the emails that are not required on a per-project basis.
Click on the Email Settings tab and the "..." and select Edit.

Make your selections and click Save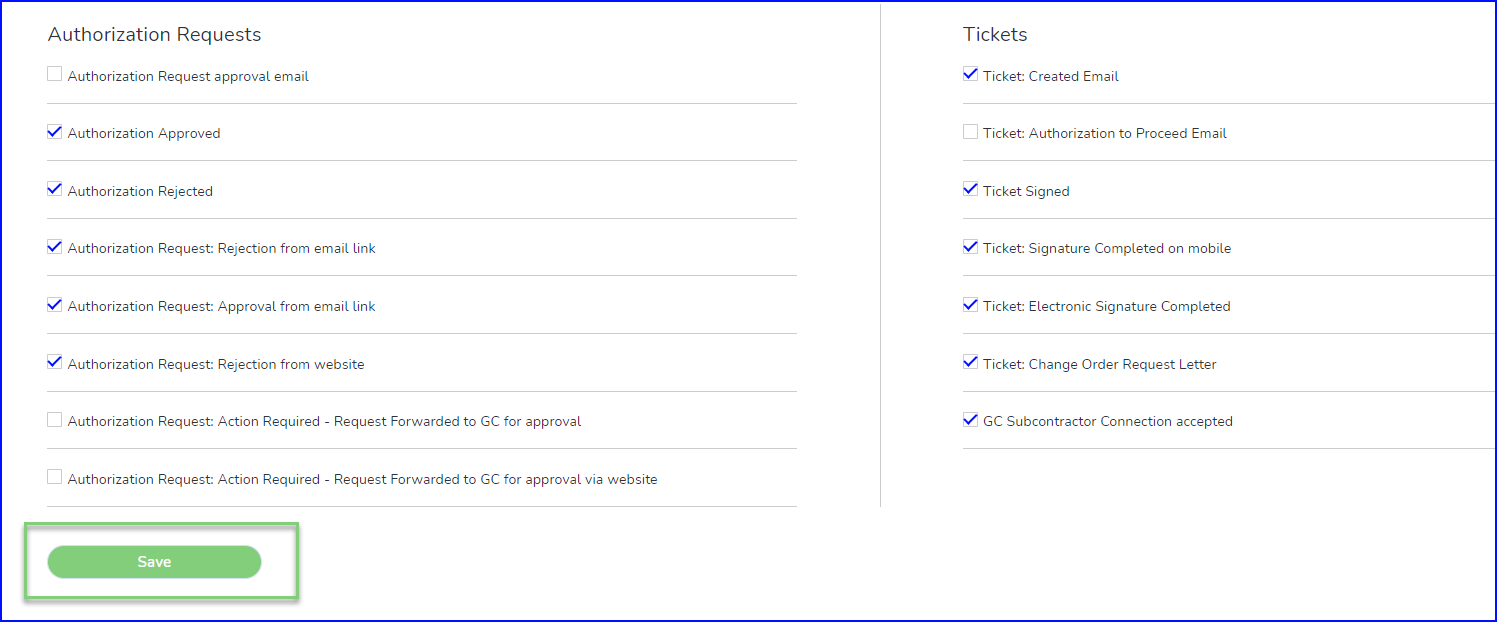 Set up Email Account
If you wish you set up your company email so that all emails from the application are sent from your company domain, click on the Email Configuration tab and the "..." and select Edit.
This is optional and can be done later. If you decide not to set this up, all emails will be sent to your contacts from our default PeerAssist account.

Some common email SMTP settings:

Office 365:Server name: smtp.office365.com Port: 587
Gmail: Server name: smtp.gmail.com Port: 587

Add your information and click Test Configuration to verify the email is set up correctly. Click on Save when you have completed the setup.

Cover Letter
When an Owner Change Order Request package is sent, there is a standard text in the letter that can be set up for your company.
Click on the Cover Letter tab and the "..." and select Edit.

Enter the information and click on Preview Cover Letter to view what it will look like.


Your company page is set up!
Well done - your company page setup has been completed.
Now you can Set up your Owners.