Learn how to set your default views for your PeerAssist platform.
You can manage and edit your user account preferences and settings at any time by clicking on your account initials at the bottom left corner of the screen.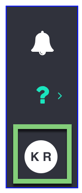 The default views settings are Default View Type and Chart and Information period.
Default View Type
When you log in, this setting will set what you will view initially.
Select your preference for the Default View Type. This is the view that you will see of your dashboard when you log in.



The options for this setting are:
Authorizations - Field Work Authorizations are prior authorization requests for extra work.
Field Work In Progress - All tag type extra work that is in progress.
Service Work - All service work tickets.
Request for Price - all priced change/request for price types of work.
Change Order Log - All requests for change orders, tracking only and no charge extra work are tracked here.
My Own View - This is a custom view tab that allows you to define your own view of the extra work and save them as views. Then they can be selected at any time.
eForms - All the forms that are in process and completed.
The Default View Type can be selected at any time and so once you are more familiar with the different dashboards, you can set it to your preference.
Chart and Information Period
Select the view for your Chart and information period - this is related to the Analytics page which shows summary type information per project and totals.

The Chart and information period can be selected at any time, so once you are more familiar with the analytics page, you can return and set it to your preference.