Learn how to filter and view all your work on the T&M Dashboard
Table of contents
Filtering Information
There are advanced filters on each tab of the T&M dashboard to allow you to locate and find exactly the information you need.
Depending on permissions, certain users may only view the field work that they are assigned to on projects.
Navigate to the T&M dashboard. In this example, we will show the Field Work In Progress tab.

Click on the Filters Off button. When this button shows "Filters Off" it means no filters are applied. When this button shows "Filters On" it means filters are currently being applied.

Several filters can be applied in combination, and any set of filters can be saved and named so you can access them again as needed.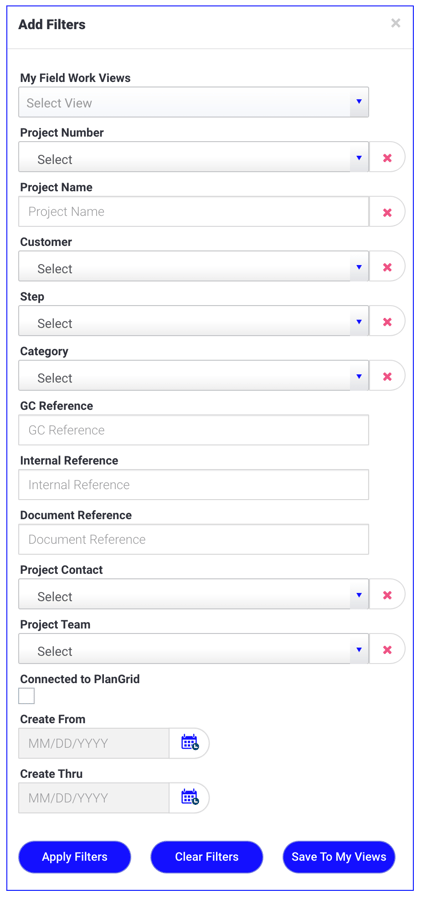 Some drop downs are checkbox lists. For example, you select one or more projects or one or more steps.
Click on Apply Filters to apply your selections to the tab and display the results.

If at any time you wish to start again, click on Clear Filters to clear all filters.
Saving your view
Your filter selections can be saved and used again. Click on Save To My Views to save your selections.

Name your view and click Save.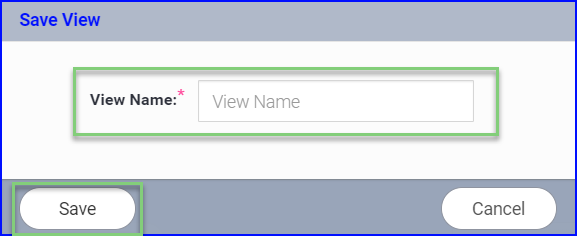 Your new view will be saved and can be selected at any time from My Field Work Views. It can always be deleted by clicking the red delete button at any time.

Also, you can access it from the My Saved Views on the dashboard.