Did you know you can designate which screen you land on each time you login?
This is such a helpful feature since you may subscribe to just one of our modules, or if there is a menu that you navigate to the most. Set your default landing page so that each time you log in, it takes you to that part of the platform!
T&M users may want to land on the Authorization Request tab or Field Work in Progress
A PM using Purchasing might want to land on the Field Material Request or Material Release tab
A purchasing agent might want to land on the PO Processing tab
Set your default view
Navigate to Account Settings by clicking on your initials in the lower left corner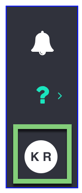 Use the Default View Type dropdown to select the preferred screen



The options for this setting are:
Authorizations - Authorization Requests pending approval to track T&M on a ticket
Field Work In Progress - Tickets in all stages before a change order request is sent
Service Work - All service work tickets
Request for Price - priced work outside of T&M
Change Order Log - All executed tickets and priced work (change orders sent) as well as Tracking Only and No Charge tickets that have been closed out.
My Own View - This is a custom view tab that allows you to save filters that pull information from all tabs
eForms - All the forms that are in process and completed.
Purchasing - Field Material Request - Lands on the Requests in Progress tab
Purchasing - Material Release - Lands on open PM Material Releases
Purchasing - PO Processing - Lands on Purchase Orders in all stages
Purchasing - Receiving - lands on open orders that have not been received
You can come back and change this setting at any time!