Learn how to navigate the FIELD dashboard and use Filters and Exporting to manage project forms.
Table of contents
---
Managing Field Docs
The FIELD dashboard is where all the forms, completed or in process, will display. Depending on your permissions, you may only see forms for projects you are assigned to.
Forms Drafted or Sent for Signature will appear in the Field Docs in Progress tab
Forms that have been signed and completed will appear in the Completed Field Docs tab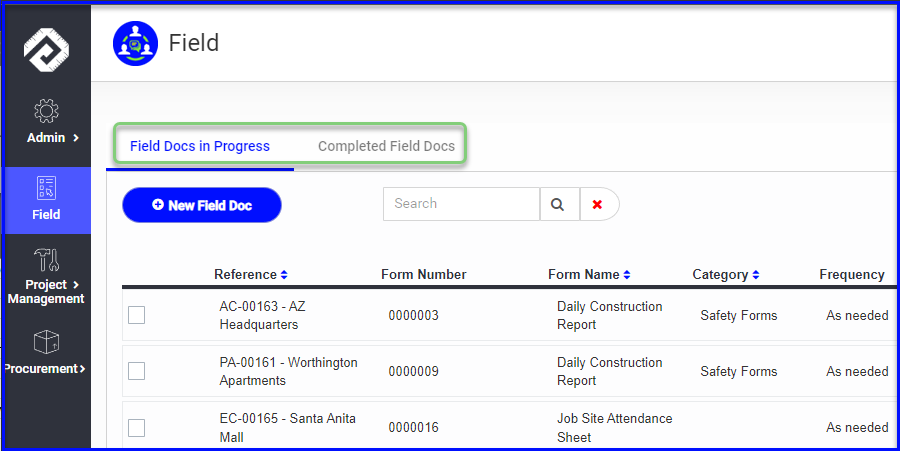 Link a form to a PlanGrid task
If your project is sync'd with PlanGrid, you can link a form to a PlanGrid task.
Open a form in any step and scroll to the PlanGrid section and click the link icon

A window will open displaying all PlanGrid tasks, click Connect to link the form to the appropriate task
Any details and photos from the PlanGrid task will be attached to the form

The PlanGrid connection will now be visible on the eforms dashboard

Learn how to connect to your PlanGrid account and sync projects here
---
If you need to manage completed forms for data analysis, record-keeping purposes or share with the appropriate party, you can use the Filters and Export PDFs or an Excel file.
Filters
There are advanced filters on the FIELD dashboard to allow you to locate and find exactly the information you need. If there is a filter combination you use frequently, you can save the view and you will be able to easily access it from a dropdown menu.
Click on the Filters Off button. When this button shows "Filters Off" it means no filters are applied. When this button shows "Filters On" it means filters are currently being applied.

Several filters can be applied in combination, and any set of filters can be saved and named so you can access them again as needed.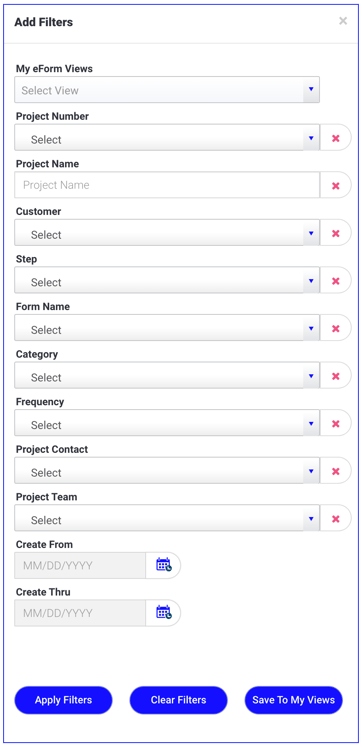 Click on Apply Filters to apply your selections to the tab and display the results
Clear Filters will remove the applied filters
Save To My Views will make the selections available in a dropdown menu on the dashboard


Export Field Docs in Excel or PDF format
Once you have filtered to view the forms you wish to export, use the Export Excel or Export Forms buttons to download.

If you choose to Export an Excel file, you can customize the fields displayed.
Drag and drop the desired fields to the right side of the screen
If there is an Export you will use periodically you can Save Export Format and it will be available to you in the Select Export dropdown for future use.