In this article, you will learn how to fill out an eForm from the jobsite.
Table of contents
---
Login to PeerAssist Mobile
Login to the PeerAssist Mobile App. The default page displayed is "View List".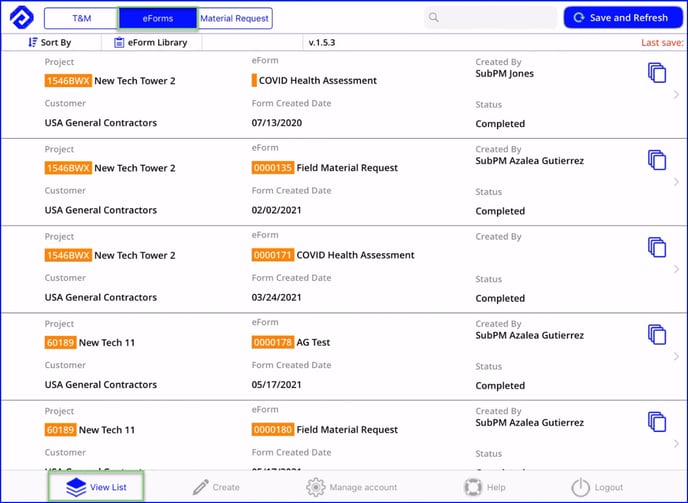 There are multiple App views that can be displayed:

T&M Tickets - A list of all currently active field work or service tickets and Authorization requests.
eForms - A list of forms that are currently active.

Select the eForms option to view a list of all forms that are open.
Begin a New Form
Tap on Create and select Project Form to create a new form.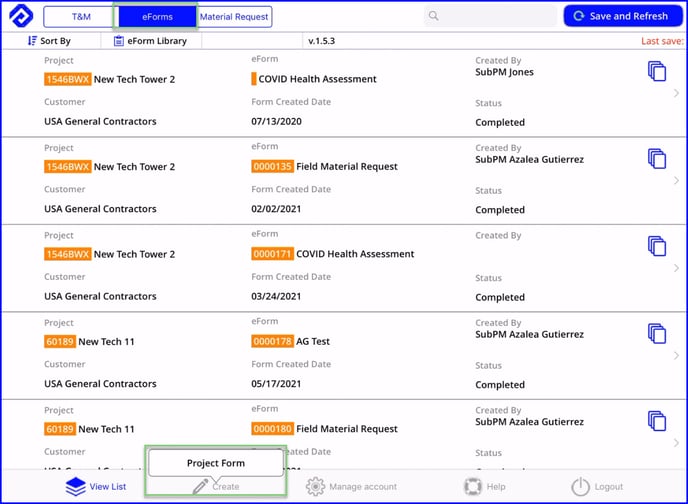 Select the project to which the form should be applied by tapping anywhere on the line of the project.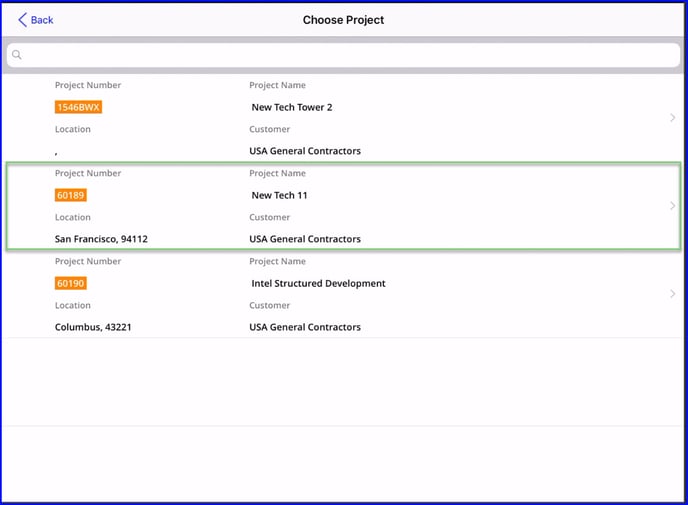 Select the form that will be filled out by tapping on the Choose a Form drop down.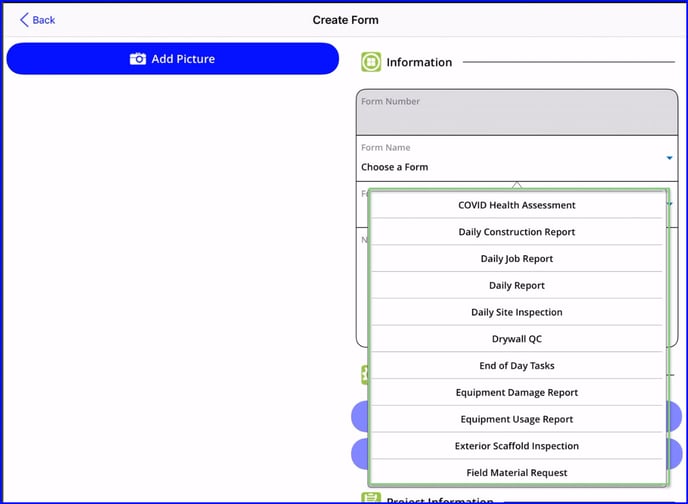 Enter the Form Date and Notes if needed.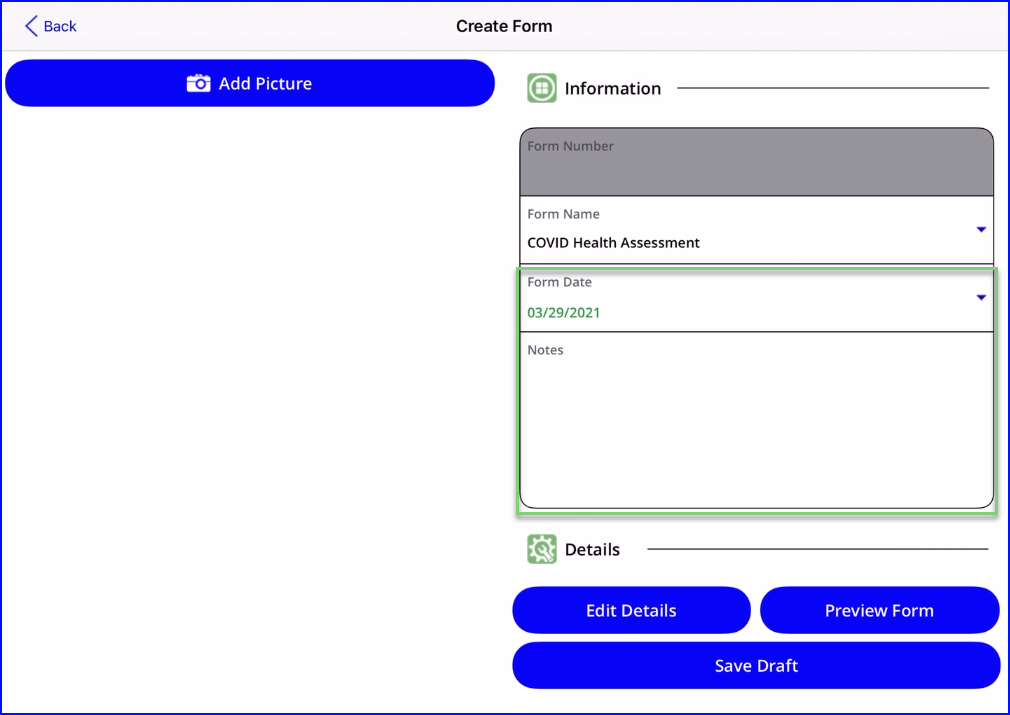 Tap on Add Picture to add images to go along with the report being filled out. Some examples could be images of an accident, temperature readings or equipment inspections.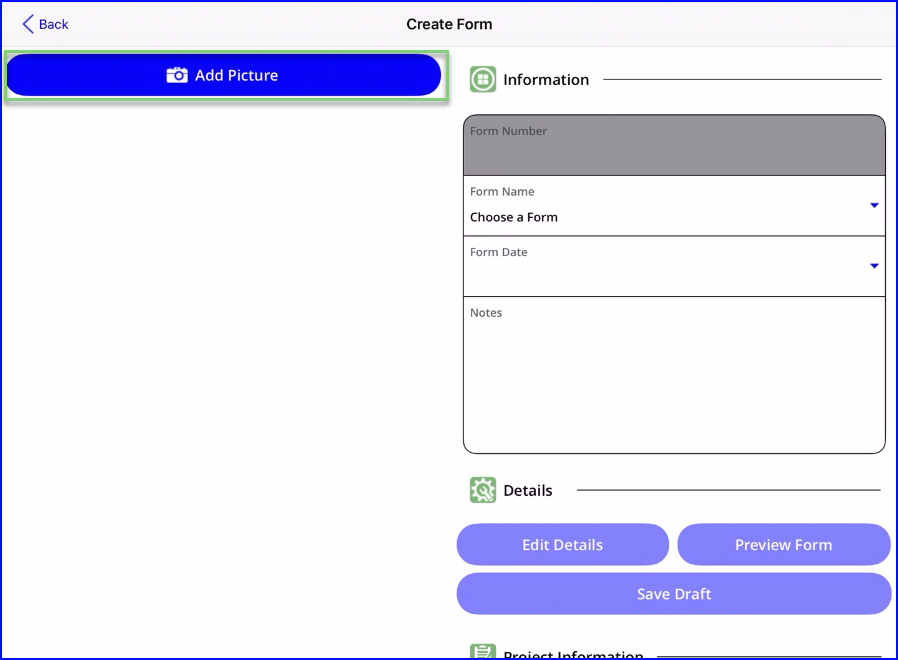 The example below uses an image of a temperature check on a COVID assessment form. Or you can use the camera icon to take a live photo.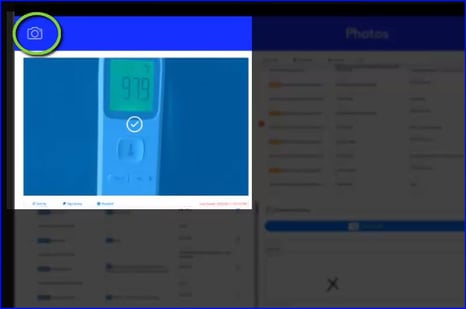 At any time, you can click on Save Draft and come back to complete your form later.
Edit Details
Tap on Edit Details start filling in the details of the form.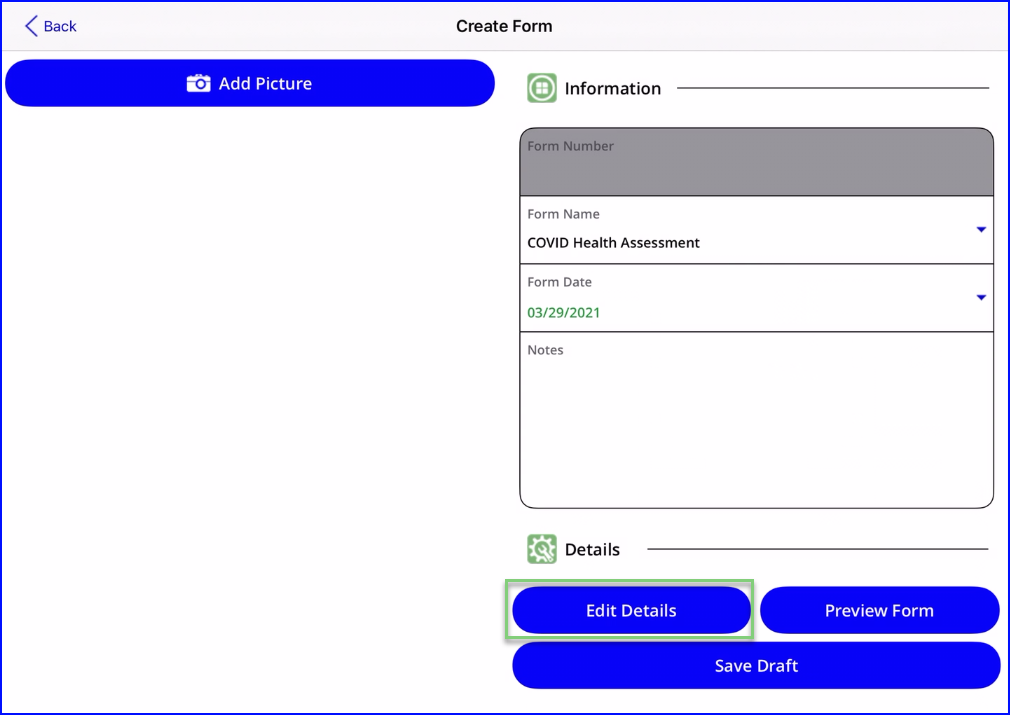 Follow any provided instructions.
Answer all questions.
Add comments where appropriate. Take advantage of the voice dictation feature on your tablet to add comments quickly.
Tap Next to move through all questions and capture a signature.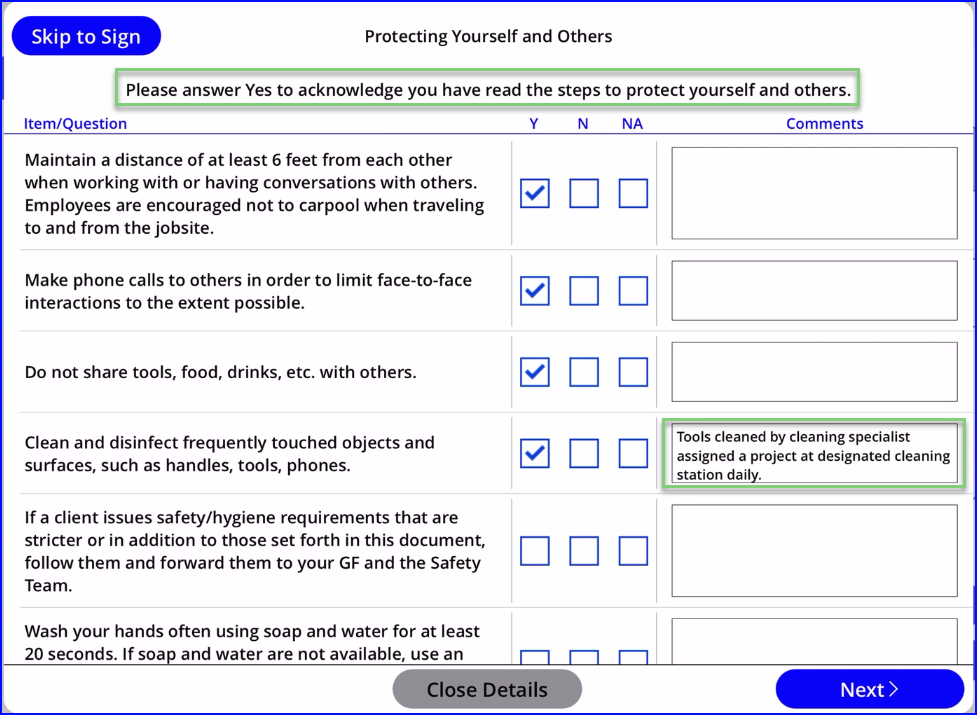 Sign Your Form
Select Action Type. The choices are:

Send For Signature: Allows you to sign the form then send it for additional approval signatures.
Mark Complete: Allows you to sign the form, then send a completed copy to your team.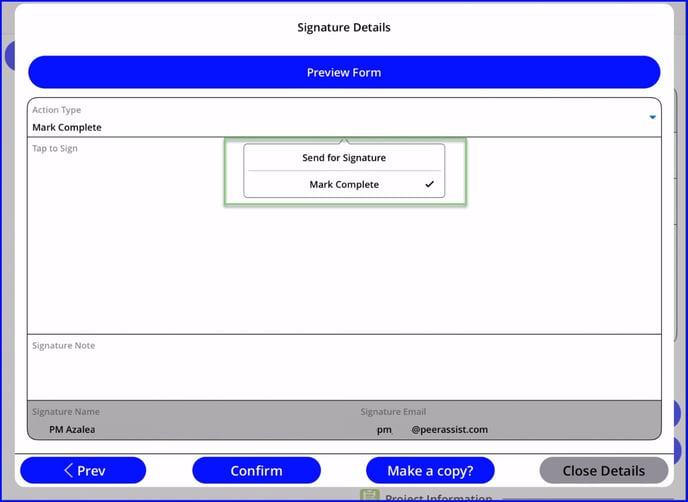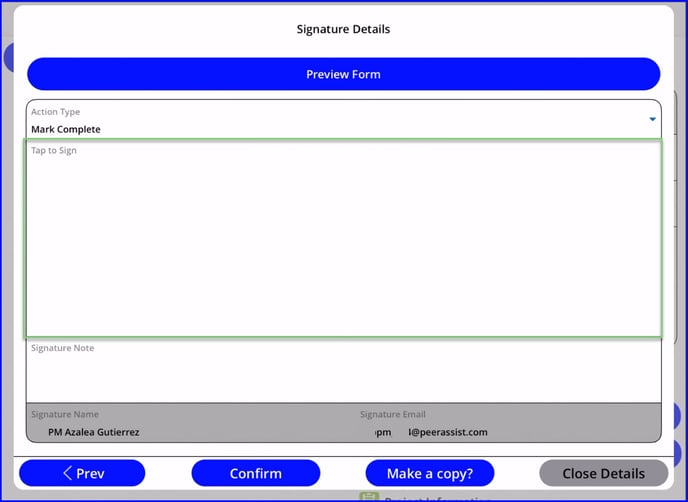 Enter a Signature Note if needed.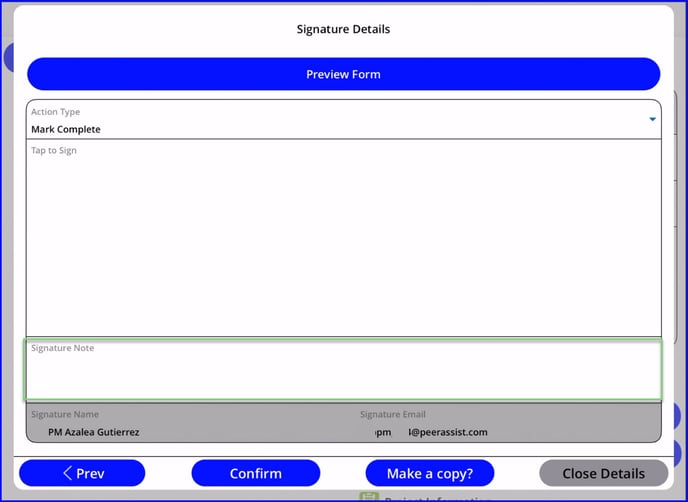 Tap Confirm (Typical) or Make a Copy? (Optional)

Confirm: Confirms your signature choice and proceeds to the next step.
Make a Copy?: Confirms your signature choice, proceeds to the next step while simultaneously duplicating the form on to your dashboard in the Draft step. After completing the signature confirmations on this current form, you may edit the details of the copied from on the View List page. This option is intended to help create forms with similar data quickly.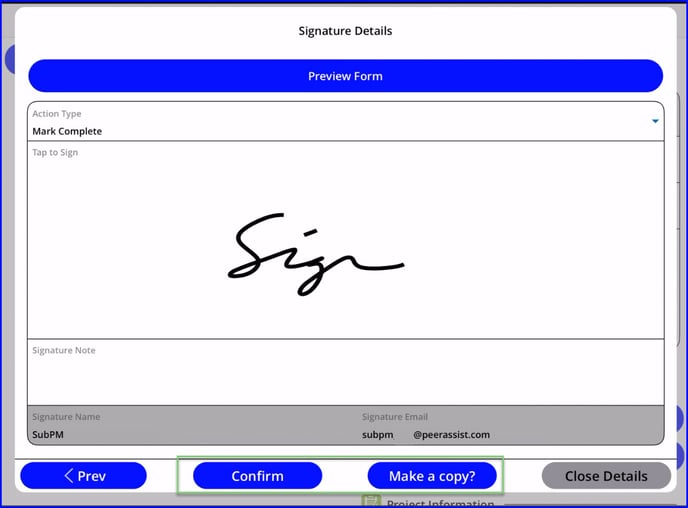 An email form will open to allow the foreman to select the contacts who should receive a copy of the completed form. Tap on Confirm to continue.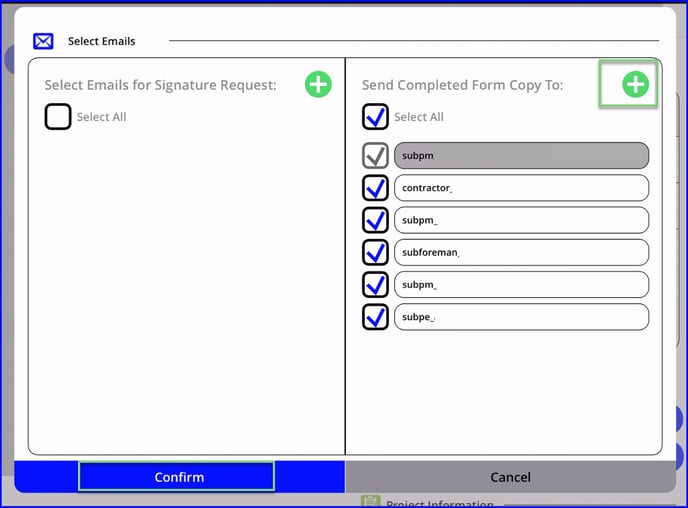 You will see a confirmation that the form was created and you will be returned to the View List page.
Save and Refresh
Tap on Save and Refresh to update your Dashboard and send the completed form to the office.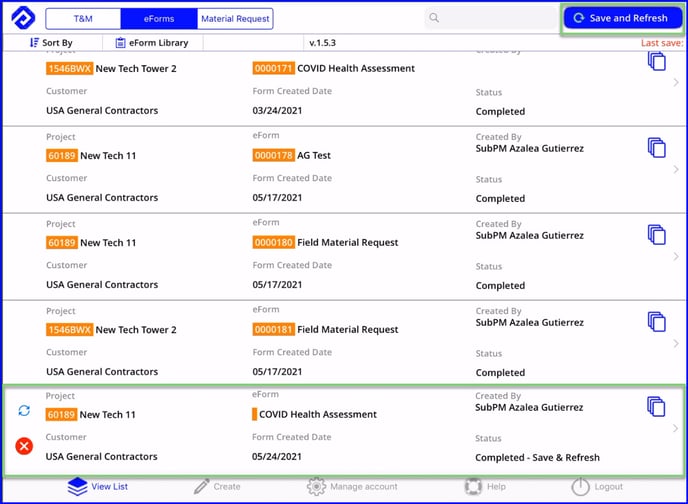 Well done!
Now let's continue to Sign and Send a Form for Electronic Approval.