Learn how to set up your company-level pricing and then manage project-specific pricing.
Table of Contents
---
Company Level Pricing
Pricing can be set up at the company level which will set the default template for all projects to inherit from. This can be changed at any time and all new projects will inherit this pricing structure.
Click on Admin -> Workflow
Scroll to the T&M Tracking Settings Section
Click on Configure Pricing Template

Project Level Pricing
Pricing can be also set up at the project level and when a new project is created, it will inherit the pricing template that was set up for the company. Then it can be modified and adjusted for project-specific requirements.
Click on Admin -> Projects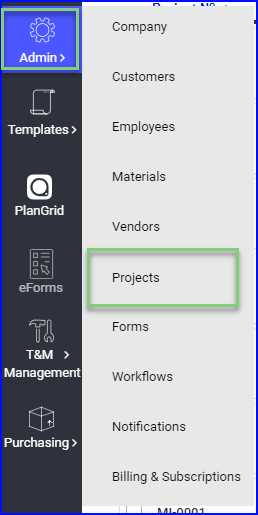 Select the project by clicking Edit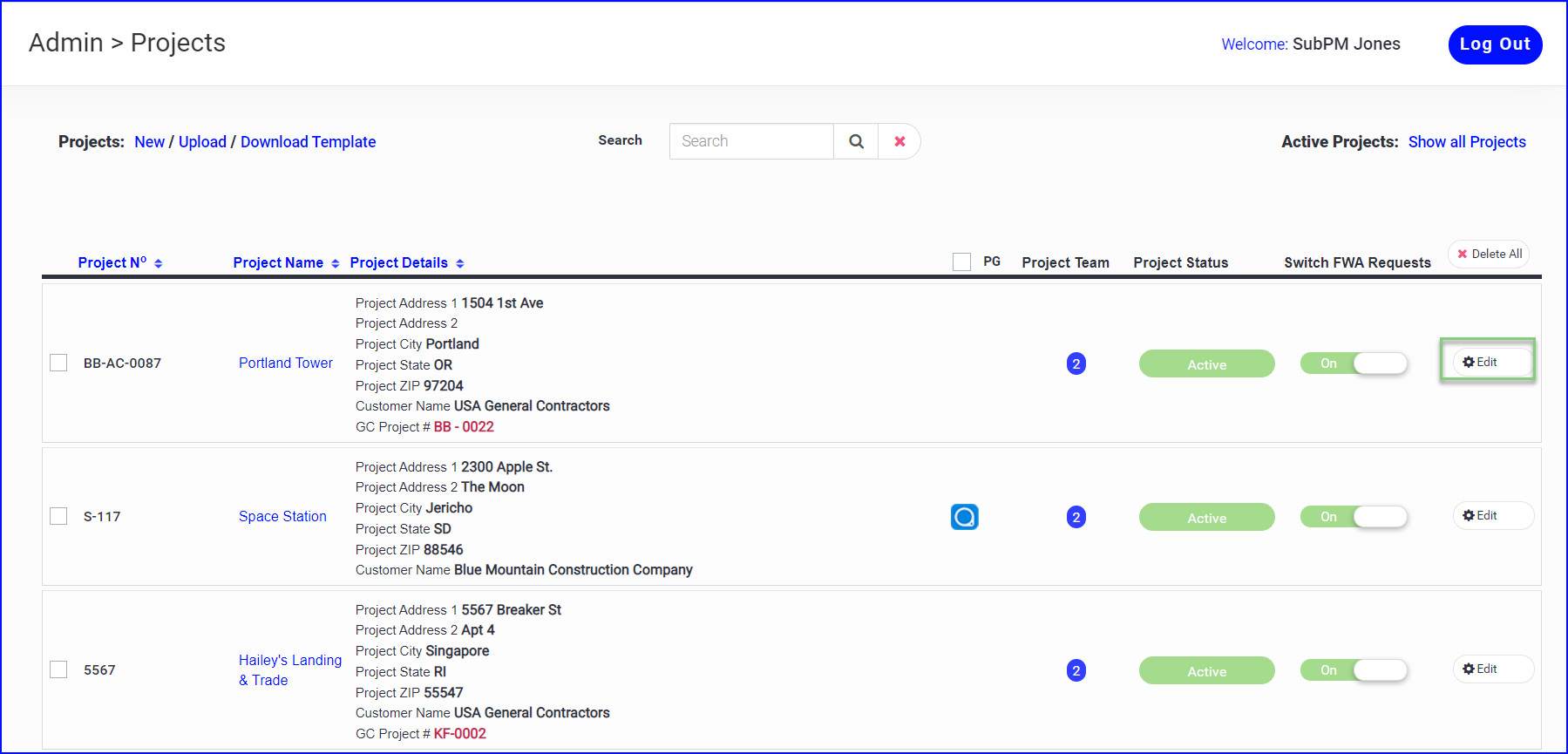 Click on Configure Pricing

Configure Pricing (Company and Project)
The Configure Pricing form contains the structure for all the items that your company may bill for related to the extra work performed.
This includes labor and material which are standard and then optional "Additional Pricing Items" that can be chosen to include.
We have provided a template for your company to review typical items that may be billed for, but these can be edited or removed if they do not apply.
To make the most of the T&M Tracking product and have the greatest impact on your bottom line, it is helpful to review the typical items that are missed by your project team when you bill for T&M work.
These can include supervision time, project management time, rentals, disposal, and parking, to name a few, that you may be contractually permitted to bill for.
Once you identify these items, add them to the Configure Pricing template so that you can select them easily when processing each ticket.
Configure Labor Rates
Edit your labor rates by clicking on the Edit button on the labor line.

At the company level, you can set up all your trades and classifications so that when you set up a new project, this structure will pull into the project and then you can fine-tune the rates per project.

It is recommended to set up all the trades and classifications in this company template and then just delete the ones that don't apply at the project level.
For the project, there is the option to pull in a set of rates from the trade templates set up for the company.

Go to Trade Templates to learn how to define multiple trade rate templates for use on your projects.

Add Trade
Click on the Add Trade button to add a new trade and set of rates to the pricing structure.
Any of the existing Trades and Classes can be edited along with the rates.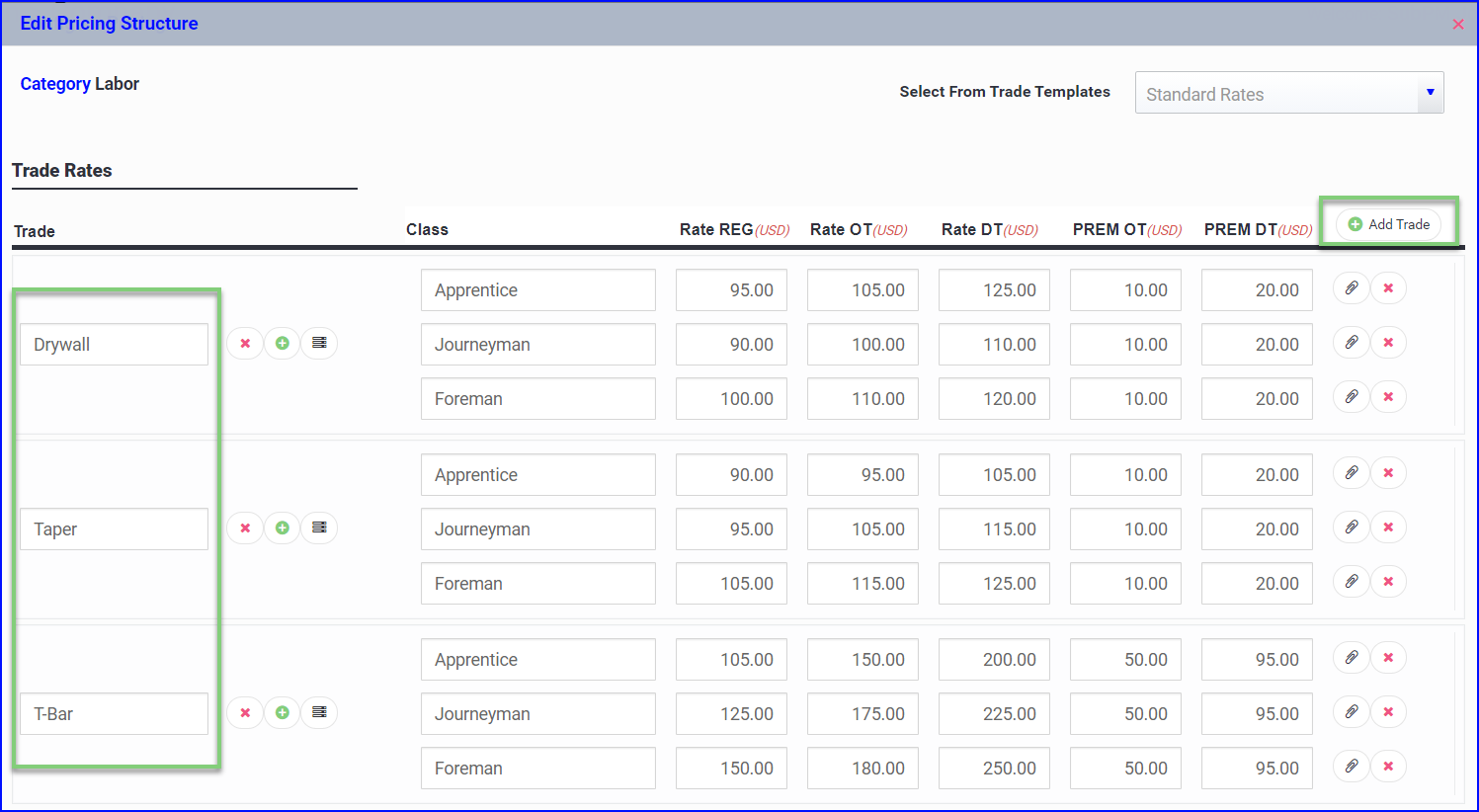 To add a new class to the existing trade, click the green "+" button beside the trade.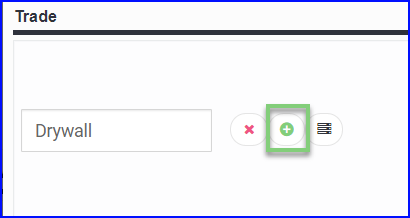 To copy an entire Trade and Class list, click on the copy icon beside the trade. It will show up on the bottom of the list and the Trade name can be edited along with the rates.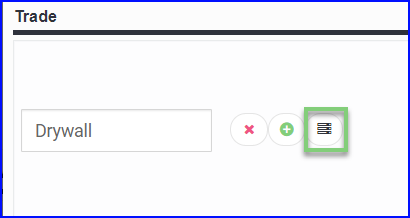 Attachments can be added to each rate as backup documentation for those agreed-upon rates. If you attach a document, it will show up on the ticket to be included in the package should you choose to do so.



General Settings
Scroll down the labor form to the General Settings section.

Labor Layout - set this to your preference on what shows on your ticket report. There are currently 2 options.


Detail - This shows the days of the week and hours worked on those days per employee.

Summary - This is a summary view of all hours worked in the week per employee.
Trade Rate Type - There are two types of labor rates that can be applied on your Ticket and this is set up on the project

Base Rates - Labor rates entered on the project exclude Overhead & Profit
Billing Rates - Labor rates entered on the project include Overhead & Profit
The most common setting for Trade Rate Type is Base Rates and this is the default setting when your company is spun up.
Scroll down and click on Apply to save your changes to the labor category.

Add Material (Project)
A project material list can be defined so that project-specific pricing can be locked down and used when creating tickets, Field Material Requests, or Field Material orders. A project material list is optional and if one is not defined, the project will use the Company master material list.
Click on Edit on the Materials category

There are a few options on how to pull in Materials.


Select Material - This pulls from the company master list.
Add New Item - Create a one-off item (this is not the recommended method to add material because it is time-consuming compare to an import in bulk).
Copy From Project - Grab the rates from another project that has the same or similar rate structure.
Import Material List - Import from a CSV file.
Select from the company material list

The Company Master List will display and items can be selected individually or in groups or pages or all.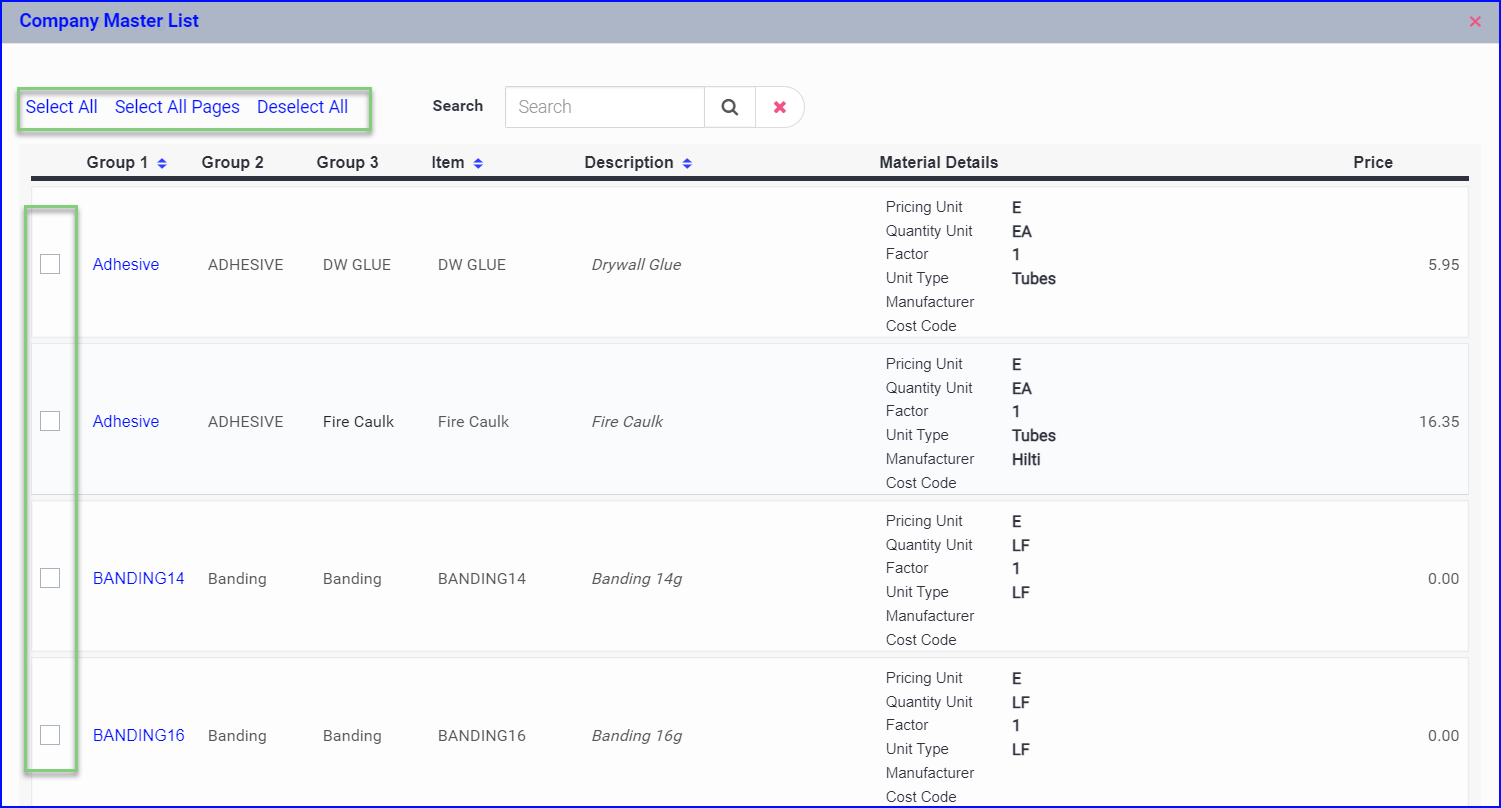 You can filter to a certain group and select all in that group for faster selection from the master list.
Click on Save to commit the changes to your project material list.

Add New Item

Click Add on Group 1 to add the Group if it does not exist. If the group does exist, click on it to select it

Enter the Group Name and click on Save

Select Group 1 and then Click to Add on Group 2

Repeat this for Group 3
Click on Add on the Item line when Group 3 is selected

Enter the material details and click Save when done.

This can be repeated for multiple items, but it is recommended to use the import or copy from master or project list methods.
Copy From Project
Click on Copy From Project

Select the Project and click Confirm.

The materials will be pulled in from another project and then you can edit/delete the items that need changes.
Import Material List
Click on Download Template

A CSV file will be downloaded that you can open in MS Excel that shows the required fields along with an example of a material line.
To edit the file, delete all the lines except line one with the headers.

The fields are as follows: (R = Required, O is optional)

Project Num (R) - This MUST be the same project number as the project you are editing.
Group 1 (R) - A high-level grouping of materials such as Drywall.
Group 2 (R) - A secondary level grouping of material such as Track.
Group 3 (R) - A third-level grouping of materials such as Slotted Track (if you do not have a third level, use the Item Description in this column as well as Item Description.)
Item Code (R) - A unique code for your item - this can simply be a number if you do not have reference numbers for your items, but be sure to make it unique and do not re-use it for a different item.
Pricing Unit (R) - Valid value are (M/C/E/P). This indicates the pricing unit m = per 1000, c = per 100, e = each and p = . This is used when the pricing is calculated in our system.
Quantity Unit (R) - This is informational only (EA, SF, SF, SY).
Unit Type (R) - This is informational and shows on the material sections in the reports and tickets.
Factor (R) - This is used in the calculations and is typically used for when an item is priced each (like screws in a box, the price may be per item but comes in a box so the factor would be 100 if you were pricing per screw and factor =1 if pricing by the box).
Manufacturer (O) - Informational only.
Price (R) - If you do not have a price, enter 0.
Cost Code (O) - If you want to track your materials by cost code, enter this field.
If at any time you need help, we are happy to take your own list that you may have exported from your ERP and create a PeerAssist compatible material list for you to upload. Please contact support@peerassist.com and attach your list and we will take it from there.
Save the material list as a CSV
Click on Import Material List

Browse to the material CSV file you just saved, select it, and click Upload CSV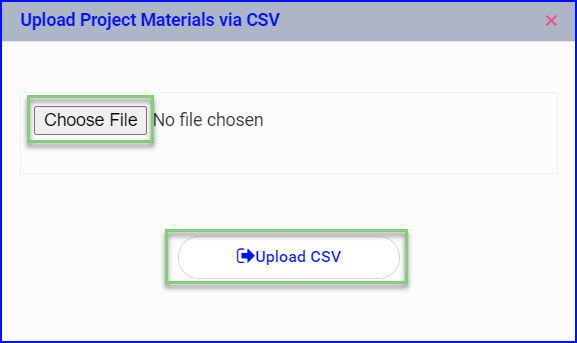 There will be a green message that pops up if your material list passes validation and it will be uploaded and show up on your project.
If you receive a red validation issue, it is typically because there is a missing mandatory field in the file. If you need help please reach out to support@peerassist.com and send a copy of your spreadsheet. We will be happy to review and let you know what to do.
Additional Pricing Categories
Labor and Material are fixed items for Configure Pricing but you have the optional choice to add additional pricing categories and items in those categories to bill for additional costs.
Additional Pricing Categories in this example are

Additional Labor
Additional Material
Transportation
Dump
All of the additional pricing categories are optional and can be deleted to leave only the labor and material categories. However, we do recommend you review items that are frequently missed when charging for extra work on your projects and adding a category for those items.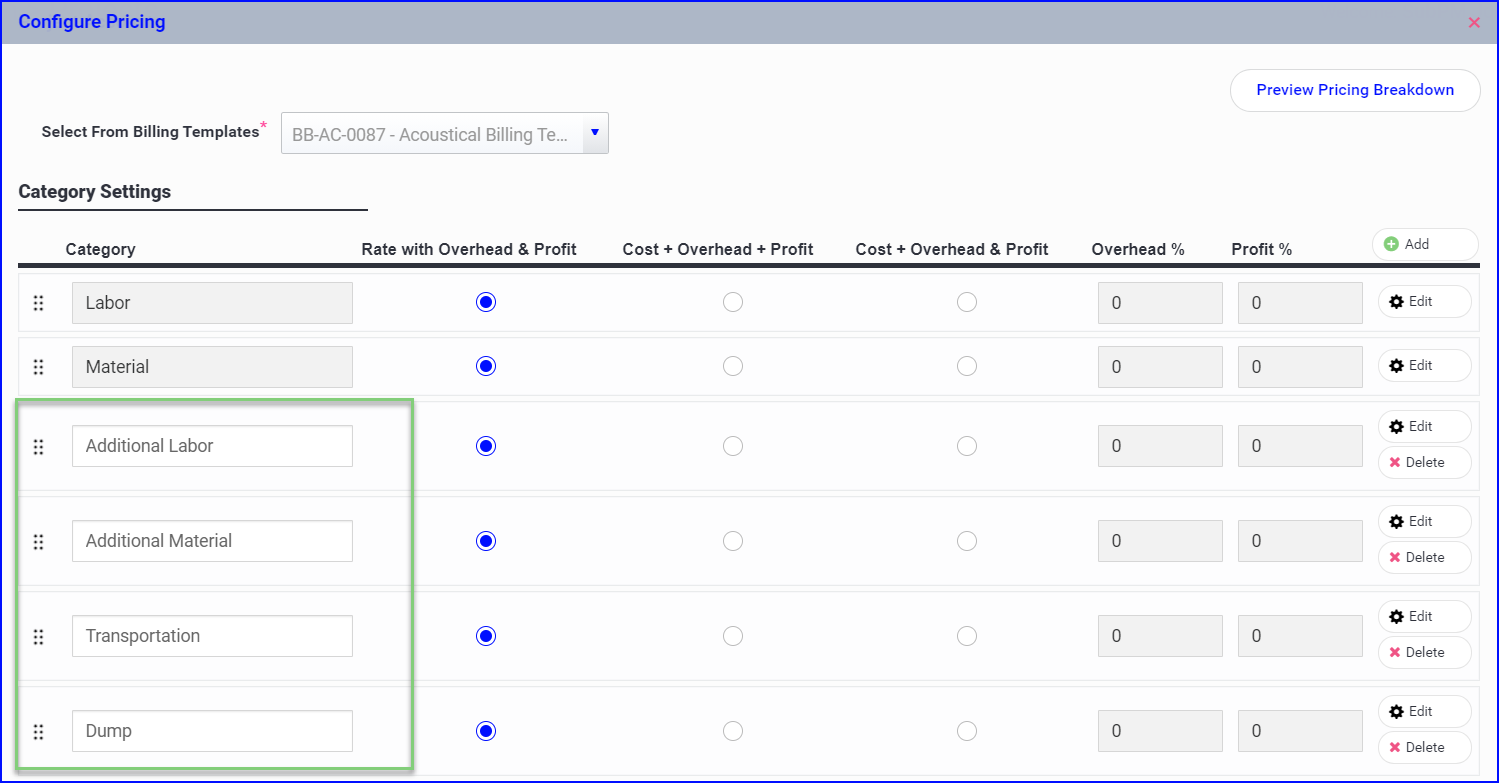 Click on Add to add a new Category or edit an existing Category Name by typing into the box.
Click on Edit on the category to edit the items within it

Click on Add to add a new category and then enter the information for the line.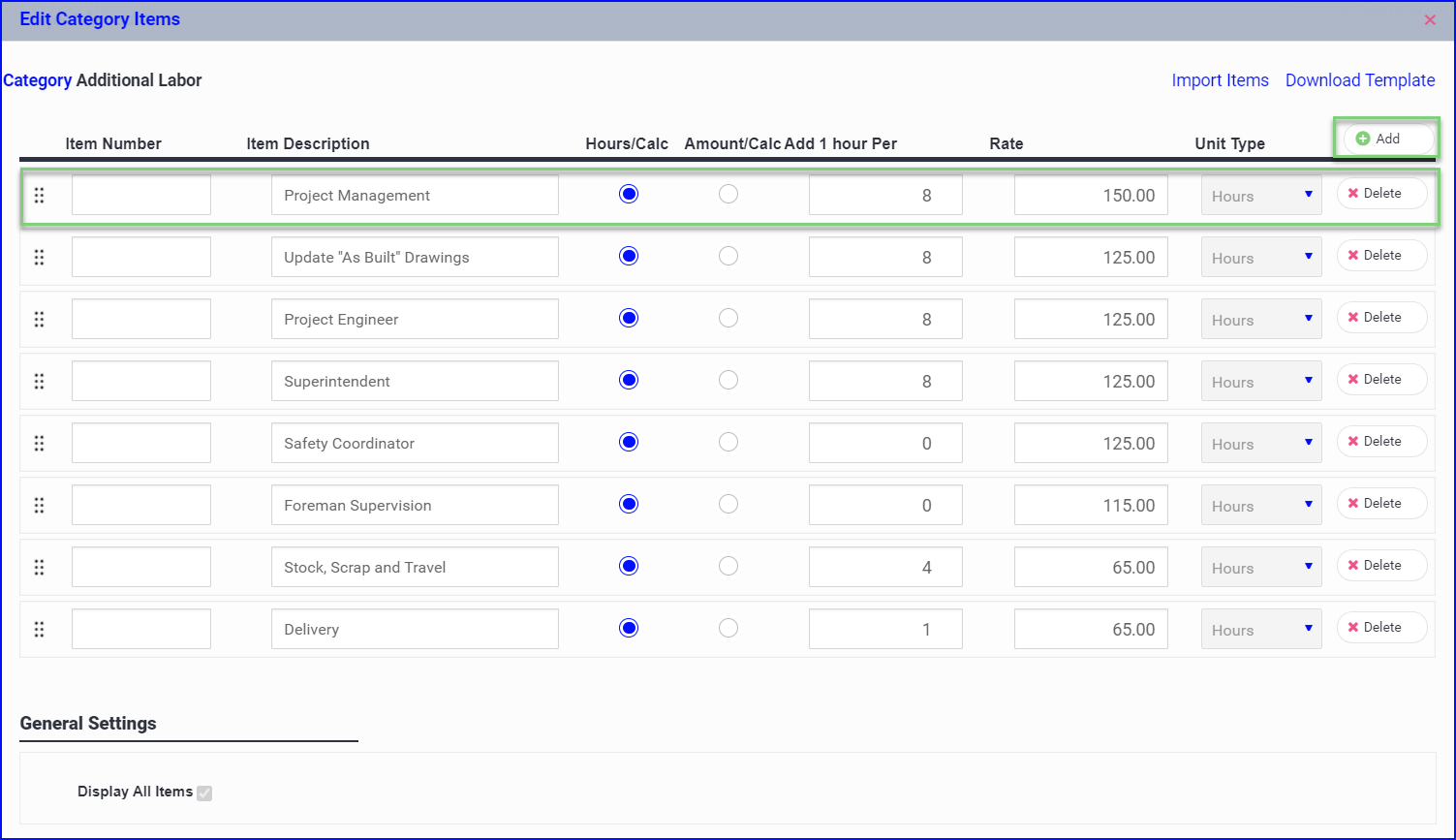 The information is as follows:

Item Number - If the item has an Item number (such as a rental code), enter it here.
Item Description
Hours Calc - Select this option if you wish to add 1 hour of time per x amount of hours or labor on the tag.
Add 1-hour per - This is the number of labor hours worked to result in one hour of time for this item.
Rate - The cost rate for the item.
Unit Type - Select the unit type that applies to the item.
The Hours Calc is especially useful when project management time is not quantified easily. A ticket with a lot of labor hours would require supervision, review and oversight. Don't lose these hours that you can contractually charge for. Adding 1 hour per every 8 hours of work is a way of adding this time to the ticket.
Amount Calc - select this option if you wish to apply a simple quantity and rate to the line item. This could apply for Rental items for example.
If you need help to define additional pricing categories and items, we would be happy to help advise. Contact support@peerassist.com and we can review and help you.
If, at any time you wish to import a list of items into a category ( for example a list of Equipment ) there is an Import option. Simply download the template, add your items, and import.

Click Apply to save the items to the category.