Users are anyone in the office or field that needs access to the PeerAssist platform (PM, Foreman, PE, etc.). Users are managed at the Admin level; learn about Roles/Permissions, and setting up Users.
PeerAssist allows unlimited users, this means you can register as many users as you need and they all have access to our support team at support@peerassist.com or live chat on mypeerassist.com
Table of Contents
---
Roles
Navigate to the Users Accounts button in the left margin. A list of Roles and Permissions are at the top of the screen. Each User will be assigned a Role which will define their access throughout the PeerAssist platform. We have pre-populated your account with some common roles in the construction industry and assigned permissions to each role. You can Edit to customize these default roles, or you can add New roles and set them up to your preferences.

It's important to distinguish that Users are different from Employees in that they will have a login and access to the platform. Employees are a list of workers so that the foreman can easily add them to a ticket or eForm.
Users
To add a user, click on New

The following information is required:

Name
Role (this will dictate their permissions for the system)
Email (this is required and will be their username to sign-in)
Check the boxes to indicate which apps they may access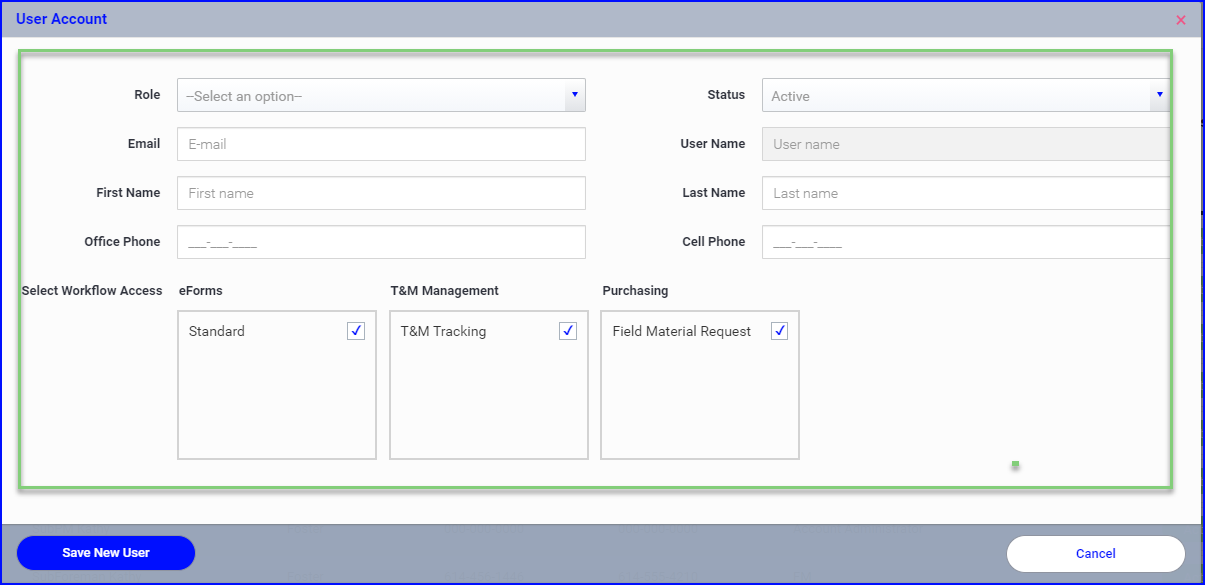 Click on Save New User. They will automatically be sent a registration email with login prompts.
Once a new user is added, you can Edit to update their info and role, change their status to Inactive, or change the apps they have access to.
A Users email cannot be edited, if they are registered with the incorrect email they will need to be registered again.
Multiple Users can be added via .csv import in the Admin > Employees - read here
Reset A User's Password
Admins have the ability to reset a user's password for them when needed. Simply locate the User in the list and select New Password.

Enter the new password and Submit

Now the User can log in and reset their password
View Active/Inactive Users
To view all Users including those that have been made Inactive, click on Show All Users.
To make an Inactive User Active again, simply Edit their profile and change their Status.

Export Your Users
You can Export your user list in Excel format
Use the search field and Show Active/Show All if desired to customize your export

You are all done setting up your users!