Workflows is where you can customize the default settings for new projects for the T&M, eForms & Purchasing applications, including your company's labor rates & additional T&M billing items.
Table of Content


T&M Tracking Settings
In Admin > Workflows > T&M Tracking you will be able to set your defaults for new projects. Most of these can be customized further at the project level.

Set your company's Starting Ticket Number. This defines the format of your ticket numbering and it can be overridden at the project level if needed. For example, enter 000001 if you want your ticket numbers to be 6 digits. Or use a prefix, like the job number: 202318-0001.
Switch Authorization Request on or off at the company level. If you do not want your foreman to request authorization to put extra work on a ticket, you can turn off this feature for the whole company. If you leave it on, it can still be turned off at the project level.
Check Require COR# if you want to make sure that all CORs are numbered as they are sent. (If you want them auto-numbered, you will need to enter the starting COR# for each project.)
Use the New Project Notification button if you would certain people notified each time a new project is set up.
Configure T&M Template allows you to set labor rates and additional T&M costs at the company level (project rates can also be modified at the project level)
Click on Configure Emails to set which emails will be sent internally and to the GC. This can be overridden at the project level, and you can set up email preferences at the customer level as well. For example, if you never want to see emails for Tickets created, you can switch this off at the company level and then set it for the one or 2 projects that you wish to see them.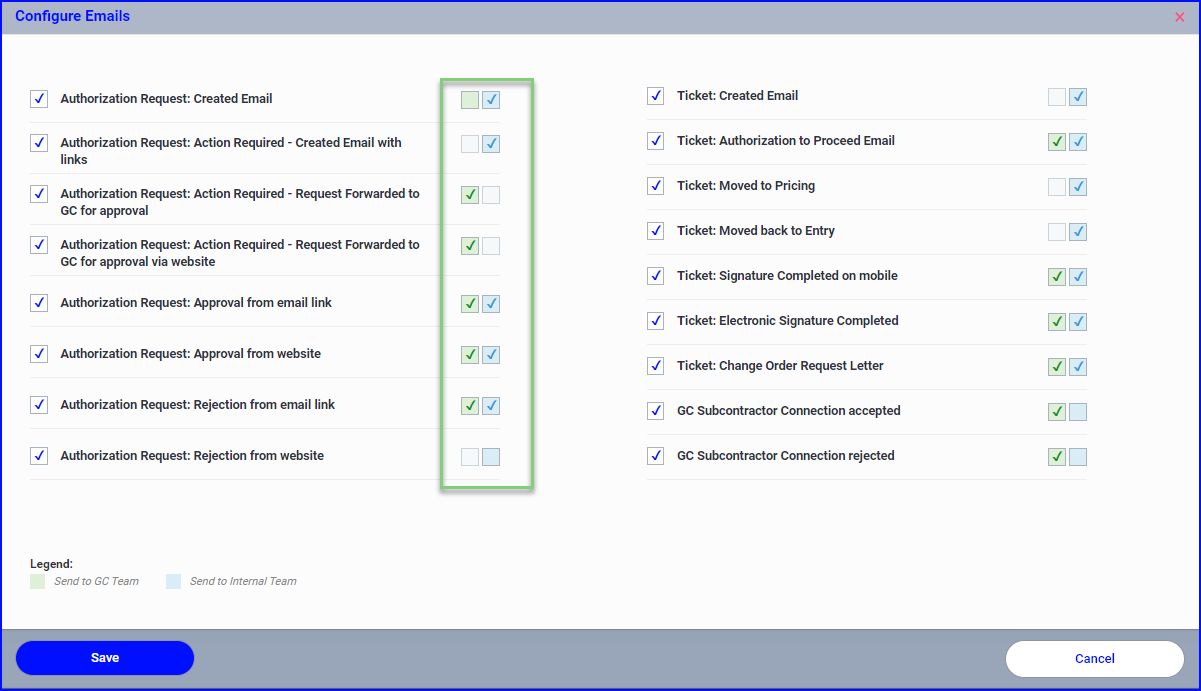 Customize the verbiage on outgoing invoices and change order requests. This can also be modified at the project level.

FMR & PO Processing Settings
Choose your starting FMR and PO#s

Add an FMR Contact or Purchasing Contact for anyone who should be copied on all FMRs and POs
Update verbiage on outgoing requests
Set default Shipping Terms
Allow users to select a Shipping Contact from the Project Team or from a custom list
Allow users to add Cost Codes manually or from a custom dropdown list
Use the checkbox to make cost codes required on all POs for all projects
Add alternate shipping locations in Admin>Workflows to easily change the ship-to on the purchase order.
Make sure to Save your changes